27 februari 2020 |
news category
High performance gecombineerd met IoT-architectuur: SAUTER modulo 6
SAUTER modulo 6 bestaat uit compacte, krachtige hardware, op cloud gebaseerde software, een breed scala aan integratieopties in een veilig totaalsysteem door middel van een sterke databeveiliging. Dé voorwaarde voor toekomstgerichte systemen  – van slimme verwarming, koeling en ventilatie tot geavanceerde netwerk structuren voor gebouwen en gebouwcomplexen.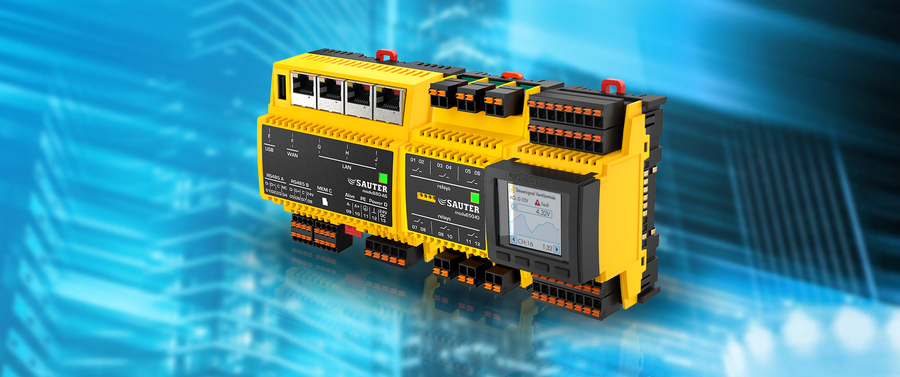 Nieuwe prestatienormen
SAUTER modulo 6 biedt tot dusver ongekende prestaties in termen van het aantal datapunten per automatiseringsstation, data opslag en verwerkingssnelheid – dit alles terwijl het station minimale ruimte in de regelkast inneemt. De modulaire structuur en de flexibiliteit van de modulo 6 modules bieden de ideale prestaties tegen optimale kosten – van verwarming en klimaatbeheersing in gebouwgebonden netwerken tot wereldwijd verspreide gebouwencomplexen.
SAUTER modulo 6 is gebaseerd op BACnet/IP en integreert alle gebruikelijke veldbus protocollen zoals Modbus, M-Bus, KNX, BACnet MS/TP enz. voor de regeling van verwarming, ventilatie, klimaat, verlichting en energie, gecombineerd in één stabiel en veilig totaalsysteem.
Geen grenzen in het systeem
De traditionele scheiding van systemen wordt vervangen door de nieuwe wereld van 'Internet of Things' (IoT) en de cloud. SAUTER modulo 6 maakt dus net zo natuurlijk en veilig verbinding met de cloud en IoT's als met de bestaande systemen. Via MQTT kunnen gegevens naar behoefte automatisch in de cloud worden opgeslagen of vanuit de cloud in het lokale systeem worden geïntegreerd. Cloud Services zijn beschikbaar voor de besturing, de werking en de engineering.
De cloud biedt nieuwe mogelijkheden om de werking van gebouwen te optimaliseren. De analyse van gegevens zoals het gebruiksniveau van apparaten, actuatoren en kleppen biedt voorspellende informatie over de verwachte levensduur. Het onderhoud kan dus voorspellend worden gepland zonder dat dit het dagelijkse gebruik van het systeem belemmerd.
Eén enkel automatiseringsstation verwerkt tot 1.600 sensor- of actuatorsignalen. Het modulaire concept van het systeem maakt op maat gemaakte prestaties mogelijk voor de meest uiteenlopende wensen: van de eenvoudige regeling van verwarming en ventilatie tot gebouwenclusters in een netwerk. De grenzen worden bepaald door u, onze klanten, en niet door het systeem.
Altijd en overal bereikbaar
modulo 6 verbindt via Bluetooth met een smartphone of tablet. De intuïtieve app biedt toegang tot meetwaarden, besturingsvariabelen en systeemparameters. Als alternatief voor smartphone-bediening heeft modulo 6 ook een lokale bedieningseenheid (LOI) met een grafisch kleurendisplay met hoge resolutie. De LOI is compatibel met alle beschikbare I / O-modules en biedt een optimale werking onafhankelijk van het automatiseringsstation, volgens EN ISO 16484-2, terwijl ook meetwaarden en uitgangssignalen zowel numeriek als grafisch in realtime worden weergegeven.
Focus op cyber security
Omdat gebouwen worden verbonden met het 'Internet of Things' en de cloud, wordt de beveiliging van systemen en netwerken een grote uitdaging. SAUTER modulo 6 biedt een geïntegreerde netwerkscheiding van internet- en gebouwtechnologie. De codering, authenticatie en toegangsbeveiliging worden nu gegarandeerd door de allernieuwste technologieën. In de nabije toekomst zal de nieuwe "BACnet SC" (BACnet Secure Connect) beveiligingsstandaard beschikbaar zijn. Het beveiligingsconcept van modulo 6 is gebaseerd op de nieuwe internationale standaard voor "Cyber Security for Industrial Automation", IEC 62443, en beschrijft het beveiligingsniveau voor netwerken en systeemcomponenten. Ook geven we aanbevelingen voor aanvullende maatregelen waarmee het beveiligingsniveau kan worden verhoogd.
Voorbereid op de toekomst
SAUTER modulo 6 maakt een renovatie van bestaande systemen mogelijk. Oude systemen kunnen zonder onderbrekingen in fasen worden bijgewerkt. Bovendien kunnen reeds ontwikkelde besturings- en regelprogramma's van de SAUTER modulo 5-systeemgeneratie worden hergebruikt. Deze kunnen niet alleen op modulo 6 worden uitgevoerd, maar kunnen ook hun bestaande taken parallel en afzonderlijk van nieuwe programma's voltooien. SAUTER modulo 6 is dus "backwards compatible" met betrekking tot programma's en netwerken, integreert zijn eigen installaties en installaties van derden én biedt ook de link naar het tijdperk van de cloud en IoT. Kortom met modulo 6 bent u klaar voor de toekomst! Vind hier meer informatie over de voordelen van modulo 6.
Over SAUTER
Als toonaangevende leverancier van oplossingen voor gebouwautomatiseringstechnologie in groene gebouwen biedt SAUTER aangename omstandigheden in duurzame omgevingen. SAUTER is een specialist in het ontwikkelen en produceren van producten en systemen voor energiezuinige totaaloplossingen en biedt een uitgebreid dienstenpakket om de energie-geoptimaliseerde werking van gebouwen te garanderen. Onze producten, oplossingen en diensten zorgen voor een hoge energie-efficiëntie gedurende de gehele levenscyclus van een gebouw, van planning en constructie tot en met exploitatie, in kantoor- en administratieve gebouwen, onderzoeks- en onderwijsfaciliteiten, ziekenhuizen, industriële gebouwen en laboratoria, luchthavens, vrijetijdsfaciliteiten , hotels en datacenters. Met meer dan 100 jaar ervaring en een track record van technologische expertise is SAUTER een bewezen systeemintegrator die staat voor continue innovatie en Zwitserse kwaliteit. SAUTER biedt gebruikers en operators een overzicht van energiestromen, verbruik en van de ontwikkeling van de betrokken kosten.
De SAUTER Group