30 januari 2020 |
news category
SAUTER Vision Center 6.2: Gebruikersspecifieke oplossingen voor een beter overzicht
SAUTER Vision Center 6.2 is uitgevoerd met nieuwe functies en biedt een uitstekende gebruiksvriendelijkheide ervaring met een volledig nieuw dashboard en uitgebreid energiebeheer. Het energiebewakingssysteem omvat nu ook gegevens- en meterbeheer, waardoor het gebruik van Vision Center nog efficiënter en eenvoudiger is dan voorheen.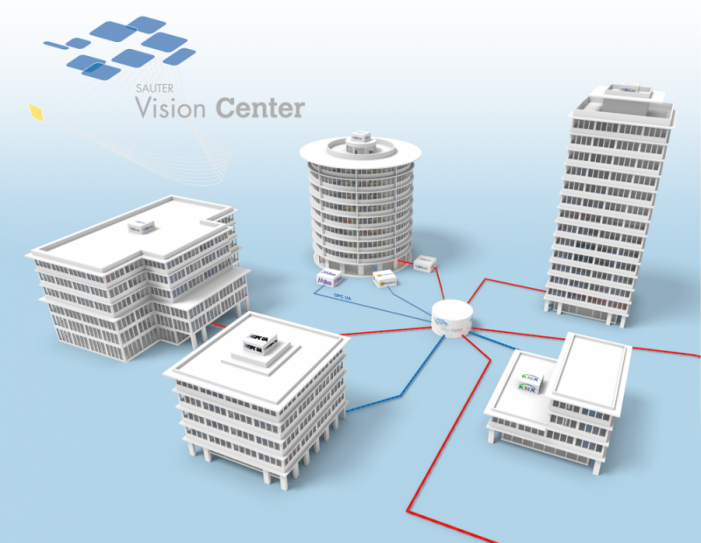 Vrijheid in energie- en gebouwbeheer management
SAUTER Vision Center is web-based. SVC 6.2 is beschikbaar via tablet, smartphone of desktop en biedt dus alle gebruikers de aangepaste, relevante informatie, waar ze zich ook bevinden. Gebouwbeheerders die verantwoordelijk zijn voor meerdere gebouwen en veel onderweg zijn kunnen gemakkelijk gebruik maken van een managementdashboard dat overal en altijd beschikbaar is. Het krachtige en duurzame SAUTER Vision Center-gebouwbeheersysteem biedt de gebruiker meer gemak en betrouwbaarheid in combinatie met uitstekende beschikbaarheid van installaties. Tegelijkertijd wordt de werkdruk verminderd en worden processen zoals energiebeheer of het onderhoud van één of meerdere gebouwen vereenvoudigd en geoptimaliseerd in termen als energie- en kostenefficiëntie.
De levenscyclus van het gebouw wordt achtereenvolgens verlengd omdat SAUTER Vision Center de potentie voor energie verbetering van het gebouw zichtbaar maakt en de gebruiker van dit potentieel volledig benut kan maken.
Nieuw dashboard voor meer individualiteit
Met het vernieuwde dashboard kunnen individuele overzichtspagina's worden aangemaakt voor verschillende gebruikersgroepen. Het dashboard heeft een ontwerp dat zichzelf aanpast op de grootte van het desbetreffende scherm. Dit betekent dat op mobiele apparaten met kleinere schermen, evenals op standaard pc-schermen, de weergave van het SVC-dashboard is geoptimaliseerd voor een duidelijke weergave. Het dashboard is op maat gemaakt door de gebruiker met vrij te kiezen standaardinstellingen voor de lay-out en verschillende vooraf gedefinieerde widgets voor KPI-symbolen, grafieken, alarminformatie en nog veel meer. Deze informatie wordt opgeslagen in SVC. Gebruikersspecifieke informatie is dus direct beschikbaar in één oogopslag. Binnen de lay-out van het dashboard kunnen de afzonderlijke widgets door middel van slepen en neerzetten worden gerangschikt en gereorganiseerd. Dit maakt individuele weergaven mogelijk voor gebruikers van gebouwen, energiemanagers, de technische dienst en andere gebruikersgroepen.
Uitgebreid en efficiënter energiebeheermanagement 
Deze nieuwe functie biedt een geoptimaliseerd overzicht van alle metingen in één of meerdere gebouwen en toont berekeningen met behulp van gebouwinformatie die worden gebruikt in de energiemonitoring. Bestaande metingen kunnen worden gecorrigeerd en extra metingen kunnen worden toegevoegd. Tevens kunnen formules rechtstreeks op de overzichtspagina worden aangepast. Zo is bijvoorbeeld het totale energieverbruik zichtbaar evenals de hieruit berekende energiekosten. Als de metingen worden gecorrigeerd of de formules worden aangepast, wordt een herberekening van de metingen en bijbehorende formules geactiveerd. Als gevolg hiervan worden ook het verbruik en de eindresultaten gecorrigeerd.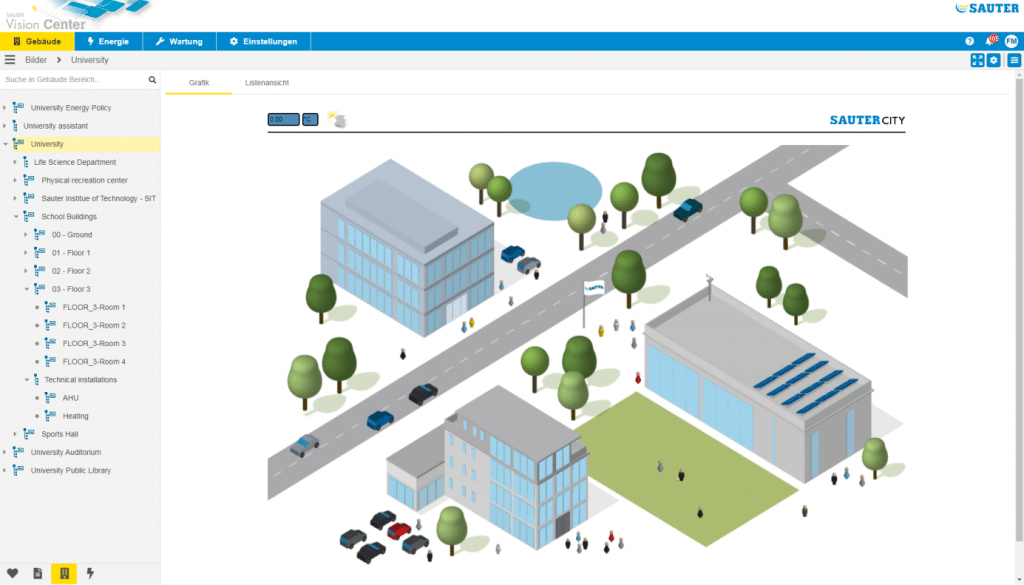 Aangepaste navigatie voor een beter overzicht
In SAUTER Vision Center 6.2 is het mogelijk om de volgende vier verschillende onderwerpen te selecteren:
Favorieten
Gebouw structuur
Energiebeheer
Individuele weergaven (dashboards, grafieken, lijsten, enz.)
De favorietenfunctie in SVC 6.2 stelt de gebruiker in staat om zijn persoonlijke selectie van de belangrijkste toegangen te creëren en deze eenvoudig op elk moment op te roepen. Deze innovatie heeft zich bewezen in onderwerpspecifieke toepassingen waarin een gebruiker verantwoordelijk is voor bepaalde onderdelen van het totale gebouwbeheer, waartoe zij bijvoorbeeld vaker toegang hebben dan andere. Als meerdere personen aan een installatie werken, kunnen ze gedefinieerde weergaven zoals grafieken, objectlijsten, alarmlijsten en dashboards beschikbaar maken voor andere gebruikers en ze toewijzen aan de afzonderlijke onderdelen van het gebouwbeheersysteem voor directe toegang. Dit zorgt voor teamgeoriënteerde, snelle en dus tijdbesparende werkwijzen. Een ander praktisch aspect is dat de gebruiker de optie heeft om diverse onderdelen volledig in zijn persoonlijke weergave te verbergen. 
Over SAUTER
Als toonaangevende leverancier van oplossingen voor gebouwautomatiseringstechnologie in groene gebouwen biedt SAUTER aangename omstandigheden in duurzame omgevingen. SAUTER is een specialist in het ontwikkelen en produceren van producten en systemen voor energiezuinige totaaloplossingen en biedt een uitgebreid dienstenpakket om de energie-geoptimaliseerde werking van gebouwen te garanderen. Onze producten, oplossingen en diensten zorgen voor een hoge energie-efficiëntie gedurende de gehele levenscyclus van een gebouw, van planning en constructie tot en met exploitatie, in kantoor- en administratieve gebouwen, onderzoeks- en onderwijsfaciliteiten, ziekenhuizen, industriële gebouwen en laboratoria, luchthavens, vrijetijdsfaciliteiten , hotels en datacenters. Met meer dan 100 jaar ervaring en een track record van technologische expertise is SAUTER een bewezen systeemintegrator die staat voor continue innovatie en Zwitserse kwaliteit. SAUTER biedt gebruikers en operators een overzicht van energiestromen, verbruik en van de ontwikkeling van de betrokken kosten.
De SAUTER Group