10 maart 2020 |
media releases
SAUTER eValveco: Voor verwarming, koeling en hydraulische balans in het proces
Het SAUTER eValveco-systeem wordt gebruikt voor realtime debietregeling en automatische hydraulische balancering in volledig of gedeeltelijk belaste zones. Deze oplossing vervangt daarom de ​​statische inregelafsluiter en een regel- / mengafsluiter of kogelkraan. Het dynamische debietregelsysteem met een 2-, 3- of 6-weg afsluiter wordt gebruikt in HVAC-systemen met een variabel debiet.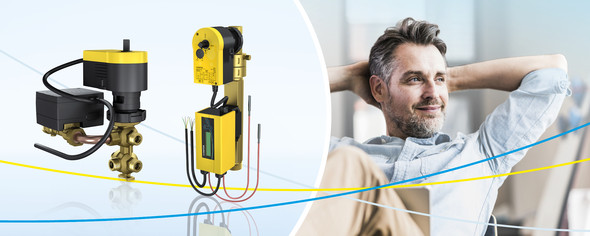 Perfecte synergie
Samen met de 6-weg kogelkraan biedt het SAUTER eValveco-systeem een ​​nauwkeurige oplossing voor het regelen van verwarmings- en koelplafonds, VAV-systemen en fan coil units voorzien van een 4-pijps systeem. SAUTER eValveco integreert daarbij de functies van een drukonafhankelijke regelafsluiter (PICV):
Drukonafhankelijk
6-weg kogelkraan voor de omschakelfunctie (verwarming / koeling)
Inregelafsluiter
Gemotoriseerde afsluitklep
De elektronische debietregeling regelt de volumestroom onafhankelijk van drukschommelingen in het systeem. Het systeem is ontworpen voor het automatisch en dynamisch hydraulisch balanceren van het proces, waardoor extra inregelafsluiters overbodig zijn. Dit is hoe het systeem een ​​perfecte, hydraulische balans in het proces realiseert zonder extra componenten in zowel volledig of gedeeltelijk belaste zones. Het zorgt ervoor dat de exacte energiehoeveelheid op het juiste moment op de juiste plaats wordt verdeeld – voor maximaal comfort tegen minimale energiekosten.
Overzichtelijk en gemakkelijk
Het debietregelsysteem communiceert via een busverbinding – in combinatie met een gebouwbeheersysteem zoals SAUTER Vision Center, waardoor  het mogelijk is om overzichten van het werkelijke energieverbruik voor elke kamer in realtime te creëren en dit via de computer, tablet of mobiele telefoon te regelen. 
Over SAUTER
Als toonaangevende leverancier van oplossingen voor gebouwautomatiseringstechnologie in groene gebouwen biedt SAUTER aangename omstandigheden in duurzame omgevingen. SAUTER is een specialist in het ontwikkelen en produceren van producten en systemen voor energiezuinige totaaloplossingen en biedt een uitgebreid dienstenpakket om de energie-geoptimaliseerde werking van gebouwen te garanderen. Onze producten, oplossingen en diensten zorgen voor een hoge energie-efficiëntie gedurende de gehele levenscyclus van een gebouw, van planning en constructie tot en met exploitatie, in kantoor- en administratieve gebouwen, onderzoeks- en onderwijsfaciliteiten, ziekenhuizen, industriële gebouwen en laboratoria, luchthavens, vrijetijdsfaciliteiten , hotels en datacenters. Met meer dan 100 jaar ervaring en een track record van technologische expertise is SAUTER een bewezen systeemintegrator die staat voor continue innovatie en Zwitserse kwaliteit. SAUTER biedt gebruikers en operators een overzicht van energiestromen, verbruik en van de ontwikkeling van de betrokken kosten.
De SAUTER Group