9 juni 2020 |
news category
SAUTER modulo 6 – BACnet certificering
BACnet is het wereldwijd gestandaardiseerde communicatieprotocol voor gebouwautomatisering en controlenetwerken ("Datacommunicatieprotocol voor gebouwautomatisering en controlenetwerken"). Het is een open standaard, onafhankelijk van specifieke technologieën en fabrikanten, waarmee gegevens kunnen worden uitgewisseld tussen alle apparaten voor gebouwautomatisering. Hierdoor kunnen producten van verschillende leveranciers worden gebruikt zonder dat ze zich zorgen hoeven te maken over hun compatibiliteit. Het wordt gebruikt voor veldapparatuur zoals sensoren, servomotoren en regelaars, maar ook voor embedded systemen, pc-based beheersystemen voor Linux of Windows, cloudgebaseerde applicaties en services.
De nieuwe modulo680-AS, een automatiseringsstation van SAUTER modulo 6, is onlangs BTL-gecertificeerd volgens de huidige BACnet Standard Revisie 1.16.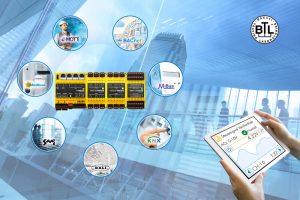 Nieuwe functies als gevolg van de revisie 1.16
Verbeterde compatibiliteit met apparaten van derden
Verhoogde precisie van de terugmeldingen.
Eenvoudige en gestandaardiseerde activering / deactivering van alarmen
Naast nieuwe functies als gevolg van de revisie, wordt het testplan uitgebreid en de beveiliging verhoogd.
Het nieuwe Fault-algoritme dat met revisie 16 is geïntroduceerd, is bedoeld om storingen te identificeren. Een snelkoppeling of een draadbreuk in een sensor zou bijvoorbeeld resulteren in extreme waarden in een analoge ingang, wat niet representatief zou zijn voor de echte omgevingsmeting. Het algoritme vervangt de eerder beschikbare gegevens van de sensor evenals de specificaties hiervan.
BIBB toevoeging
Een BIBB is een BACnet Interoperability Building Block die services en berichten definiëren waarmee de apparaten kunnen communiceren via een request-respond communicatie.
AE-CRL-B (Alarm and Event Management-Configurable Recipient Lists – B)
Dankzij dit alarm is het nu mogelijk om een Recipient List (lijst van ontvangers) samen te stellen met een eenvoudige WriteProperty-service. Met andere woorden, een gebruiker met een BACnet-client kan vanaf een computer gemakkelijk alarmfuncties voor verschillende alarmontvangers in- of uitschakelen. Bovendien is SAUTER modulo 6 compatible met SAUTER Vision Center en alle software die AE-AVM-A (Alarm and Event-Advanced View and Modify-A) ondersteunen.
SAUTER modulo 6 is ongeëvenaard qua prestaties met datapunten, geheugenruimte en verwerkingssnelheid. Met deze BACnet revisie 1.16 BTL-certificering heeft het toestel het hoogste kwaliteitsniveau bereikt.
» Download modulo 6 BACnet Certificate
Over SAUTER
Als toonaangevende leverancier van oplossingen voor gebouwautomatiseringstechnologie in groene gebouwen biedt SAUTER aangename omstandigheden in duurzame omgevingen. SAUTER is een specialist in het ontwikkelen en produceren van producten en systemen voor energiezuinige totaaloplossingen en biedt een uitgebreid dienstenpakket om de energie-geoptimaliseerde werking van gebouwen te garanderen. Onze producten, oplossingen en diensten zorgen voor een hoge energie-efficiëntie gedurende de gehele levenscyclus van een gebouw, van planning en constructie tot en met exploitatie, in kantoor- en administratieve gebouwen, onderzoeks- en onderwijsfaciliteiten, ziekenhuizen, industriële gebouwen en laboratoria, luchthavens, vrijetijdsfaciliteiten , hotels en datacenters. Met meer dan 100 jaar ervaring en een track record van technologische expertise is SAUTER een bewezen systeemintegrator die staat voor continue innovatie en Zwitserse kwaliteit. SAUTER biedt gebruikers en operators een overzicht van energiestromen, verbruik en van de ontwikkeling van de betrokken kosten.
De SAUTER Group