14 april 2020 |
news category
SAUTER Vision Center 6.3 is nu wereldwijd beschikbaar
De nieuwste versie van het gebouwbeheersysteem van SAUTER biedt nieuwe mogelijkheden voor energie- en gebouwbeheer. Sauter Vision Center 6.3. bevat een nieuwe module met verschillende grafieken en weergaveopties. Daarnaast is er de nieuwe "Master Schedule" en het gebruik van collectieve alarmen. Als onderdeel van een complete oplossing kunnen ook andere SAUTER-apparaten via MQTT in de cloud worden opgenomen en vermeld. De nieuwe functies worden aangevuld door de ondersteuning van de nieuwste BACnet-standaard – en volledige naleving van de nieuwe B-XAWS-certificering is gegarandeerd.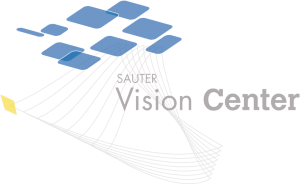 Het bewezen gebouwbeheersysteem bereikt het volgende niveau
SAUTER Vision Center (SVC) is een web-based systeem in de HTML5-standaard voor het uitvoeren en visualiseren van de werking van een gebouw, onafhankelijk van de locatie en het systeem wat wordt toegepast. Naast de uitgebreide functies voor gebouwbeheer omvat SVC ook energie- en onderhoudsbeheer. De nieuwste update voldoet aan de toenemende gebruikersvereisten en hogere operationele beveiligingseisen.
Uitbreiding van de datavisualisatie in het energiebeheer
Het navigatiegebied van het systeem bestaat uit vier categorieën: "Favorieten", "Gebouwstructuur", "Energiemanagement" en "Individuele weergaven". Op "Energiemanagement" worden metergegevens van gebouwen direct omgezet in verbruikswaarden. Om te profiteren van de flexibiliteit van de SVC-modules in de Energie management tool, zijn de grafiek- en dashboardmodules nu ook beschikbaar in SVC 6.3.
De nieuwe module, die nu in alle gebieden van SVC kan worden gebruikt, biedt tal van opties voor datavisualisatie:
Online weergave tijdens configuratie
Lijn-, staaf- en cirkeldiagrammen in één scherm
Directe overdracht van gemeten waarden naar grafieken
Grafiek lay-outs met meerdere grafieken in één document
Additionele definieerbare Y-assen, X-assen en beschrijvingen
Creëren van grotere hoeveelheden grafieken ("Bulk Charts Creation")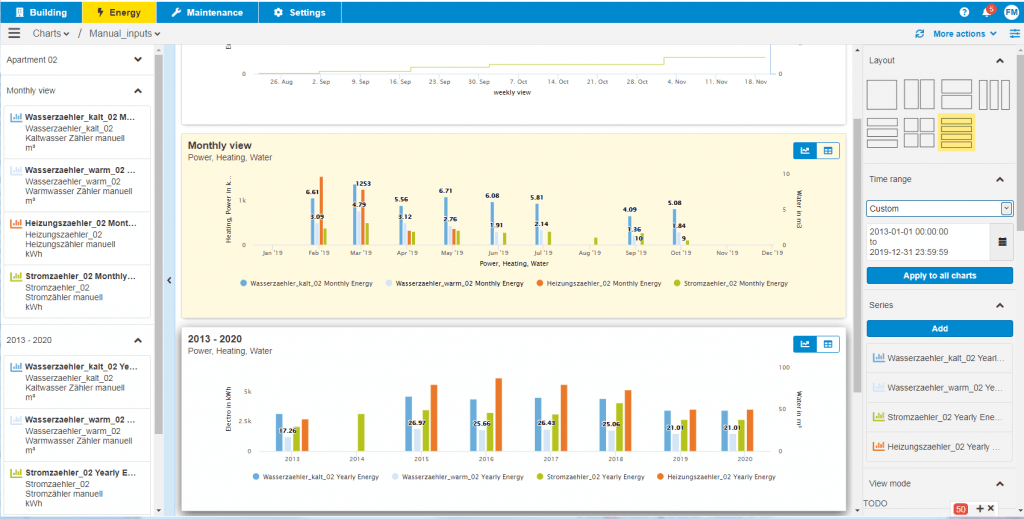 State-of-the-art apparaat- en gebouwcommunicatie
Om klanten een complete oplossing te kunnen aanbieden heeft SAUTER Vision Center 6.3 een IoT-client die de aansluiting van andere apparaten, zoals de SAUTER ecos en modulo 6 automatiseringsstations, ondersteunt via het MQTT-protocol. Dit is een belangrijke functie die het centraal verzamelen van gegevens in cloudapplicaties mogelijk maakt. Uitbreidingen van het gebruikersbeheer in verband met de IoT-client zorgen voor een verder beveiligde netwerkverbinding tussen lokale systemen en de centrale SVC. Dit is de basis voor het gebruik van Vision Services, een SAUTER-cloud-applicatie. Uiteraard is SVC 6.3. beschikbaar via tablet, smartphone of desktop en biedt dus alle gebruikers de aangepaste, relevante informatie, waar ze zich ook bevinden.
BACnet-certificering
SAUTER Vision Center is sinds 2017 gecertificeerd als een BACnet Advanced Operator Workstation (B AWS) en de nieuwe versie voldoet aan alle certificeringscriteria voor de herziening van het BACnet-protocol 1.18. Het systeem ondersteunt ook verschillende andere apparaatprofielen (B-ALWS, B-AACWS, B-OWS, B-OD). Een compleet nieuwe toevoeging is het B-XAWS-certificaat, dat de integratie van verdere delen van het gebouw in één centrale energie- en onderhoudssoftware mogelijk maakt.
Beveiliging en gebruiksvriendelijkheid
Een van de essentiële functies van gebouwbeheer is "meldingen". Meldingen zorgen voor een efficiënte werking van het systeem, optimaal gebruikerscomfort en gebouwbeveiliging. Om deze reden is de collectieve alarmfunctie toegevoegd aan de alarmmodule. Het collectieve alarm kan bijvoorbeeld systemen of delen van een pand combineren voor alarmdoeleinden om de verantwoordelijke beveiligings- of faciliteitsmanagementdiensten te informeren. Daarnaast geeft een teller in het verzamelalarm het aantal alarmmeldingen binnen de groep aan. Het nieuwe "Master Schedule" vergroot de gebruiksvriendelijkheid voor de eindgebruiker.
Beschikbaar vanaf april 2020
SAUTER Vision Center 6.3 is beschikbaar vanaf april 2020. SAUTER-klanten profiteren van regelmatige verdere ontwikkelingen in de softwareoplossingen, van engineeringtools tot migratie en specialistische expertise tot persoonlijke ondersteuning. Sinds de introductie in 2014 is de gebouwbeheeroplossing van SAUTER al meer dan 1.900 keer wereldwijd geïnstalleerd in individuele gebouwen, vastgoedparken en gebouwen. De op maat gerichte service en de nauwe samenwerking met klanten en systeempartners vormen de basis voor de voortdurende verdere ontwikkeling van SAUTER-softwareoplossingen.
Meer informatie: SAUTER Vision Center product pagina
Over SAUTER
Als toonaangevende leverancier van oplossingen voor gebouwautomatiseringstechnologie in groene gebouwen biedt SAUTER aangename omstandigheden in duurzame omgevingen. SAUTER is een specialist in het ontwikkelen en produceren van producten en systemen voor energiezuinige totaaloplossingen en biedt een uitgebreid dienstenpakket om de energie-geoptimaliseerde werking van gebouwen te garanderen. Onze producten, oplossingen en diensten zorgen voor een hoge energie-efficiëntie gedurende de gehele levenscyclus van een gebouw, van planning en constructie tot en met exploitatie, in kantoor- en administratieve gebouwen, onderzoeks- en onderwijsfaciliteiten, ziekenhuizen, industriële gebouwen en laboratoria, luchthavens, vrijetijdsfaciliteiten , hotels en datacenters. Met meer dan 100 jaar ervaring en een track record van technologische expertise is SAUTER een bewezen systeemintegrator die staat voor continue innovatie en Zwitserse kwaliteit. SAUTER biedt gebruikers en operators een overzicht van energiestromen, verbruik en van de ontwikkeling van de betrokken kosten.
De SAUTER Group